Made in Korea: The AW20 한국 Edit
From pushBUTTON, to Andersson Bell to Kim Matin, Five Korean Brands Share Their Design Philosophies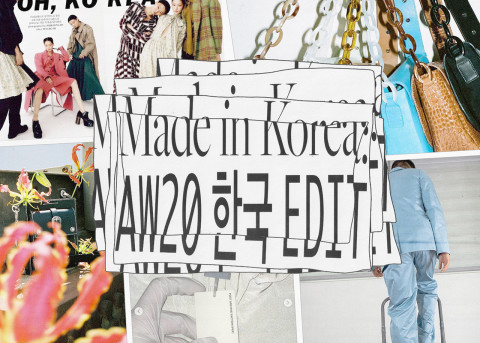 South Korea isn't slowing down when it comes to cultural innovations—in fact they are leading the way in pop music, cinema, and political organization. That energy also extends itself to fashion. With trend cycles at a crossroads and industry production transforming under the burdens of our new reality, designers are under immense pressure to deliver. But for these brands, holding our attention is something they've already learned how to sustain, through unlikely design elements, and nods to European minimalism, despite their total independence from old guard approaches. For a better sense of the scene in Seoul, we sent Korea correspondent, Elaine YJ Lee, to gather intel—spanning formative design years through to philosophies on fashion—from five of the most vibrant brands coming out of Korea. Here, the brands' designers and creative directors discuss how they approach their work, and share some thoughts on what's in store for the future—and in store on SSENSE.com.
Keenkee is the brainchild of Hyoungkee Kim, who got his start as a graphic designer and amateur boxer. After studying at Yale, Kim worked as a producer at MTV before art directing for PRADA, which left him with the urge to make his own clothes. Now a solo operation, Keenkee is Kim's creative outlet to externalize his unique, future-FORWARD, fluid aesthetic.
1. What does Keenkee mean?2. What is your design philosophy?3. What was the inspiration behind your AW20 collection?4. Which is your favorite piece stocked at SSENSE this season?5. Where is Keenkee headed?
I attached the "kee" from my name to the adjective, keen. It was a name I used for a branding assignment in college. I felt the word most perfectly captured my world values at the time. There was no intention to make it sound like "kinky," but maybe it's fate.Menswear can be basic or boring, and I want to be a little offbeat from that while still staying approachable. It's important to push for gender diversity and fluidity.I was obsessed with the number 2020. It somehow felt very futuristic. When I thought of the future as a kid, I used to imagine sleek and oval objects or structures. The colors and patterns this season are inspired by that.The Stripes Turtleneck. The process of making the stripes is quite complicated but fun. I would find any image on the Internet and rearrange its pixels through computer coding. The information of the image remains the same, but the newly programmed modules form an abstract pattern. I've been using this method of design and it will stay as one of the brand's signatures.I am moving my studio from New York to Seoul to be with my wife. Seoul has amazing production capabilities so I am very happy. I want the brand to become universal and more widely accepted rather than considered unique. And one day, I hope to design womenswear as well.
Treating clothes not as a means to simply dress one's self but rather as standalone objects to behold, Post Archive Faction's approach is to analyze and experiment with garment properties, creating new forms of wear. CO-founder and creative director Dongjoon Lim leverages his academic background in industrial design, to deconstruct and identify clothing patterns—both technically and philosophically—resulting in what the brand calls its own "structural formula." Kendrick Lamar supported Post Archive Faction when it first launched in 2018, and now, the likes of Virgil Abloh and GoldLink shop the brand personally.
1. What does Post Archive Faction mean?2. What is your design philosophy?3. What was the inspiration behind your AW20 collection?4. Which is your favorite piece stocked at SSENSE this season?5. Where is Post Archive Faction headed?
It could be interpreted literally. Post Archive Faction refers to a group that makes and represents what will become the archive of the future. When something is part of an archive, it means it has enough value to be passed on over time. We want to make clothes that can have value for generations 10, 20 years later.We divide our brand into three lines—Right, Left, and Center. Right is our "fundamental model," offering commercial pieces like printed t-shirts. Left is our "radical model," with more experimental garments. Center is the "bridging model," containing elements that connect the Right and Left to complete a cohesive brand. Our mission is to maintain this balance, like the checks and balances system of political parties.In the middle of designing the collection, I was gifted the book, by architect Andrew Zago. It's a photo compilation of all kinds of accidents. Accidents aren't intended, but we wanted to intentionally express the look of accidents in our clothes. During the prototyping phase for collection 3.1, there were also some pure accidents that resulted in the most fun designs.My favorite piece is the 3.1 Down Left Jacket. We mimicked an explosion by using stretch fabric that tightens and squeezes the padding.For us, maintaining a balance of our three lines is a matter of survival. Balance is the only way we can last as a brand. We are collaborating with a big designer next year, and want to do more local collaborations in the future, especially like art installations.
Matin Kim is already a well-known label among locals in Korea, popular for its chic casualwear at affordable prices. After finding commercial success with Matin Kim, founder and creative director Dein is realizing her true dreams of running a formal fashion brand with the launch of Kim Matin. While it's common for high-end labels to release secondary lines to reach a wider audience, Kim Matin's case is the opposite. Out of a budget-friendly line emerges a premium label, more perfectly capturing Dein's worldview and aesthetic. She credits Berlin as the city that inspires her most—Dein moved there in her early twenties to be with her boyfriend, now fiancée. Something of a mirrored love story, Dein runs Kim Matin with the same devotion she has for him and the city itself.
1. Why did you name your brand Kim Matin?2. What is your design philosophy?3. What was the inspiration behind your AW20 collection?4. Which is your favorite piece stocked at SSENSE this season?5. Where is Kim Matin headed?
"Matin" means "morning" in French. Kim is my last name. I just like French, there's not much else to it.We are in the stage of figuring that out. When I was applying to fashion schools in Berlin, one of the most difficult questions I was always asked was, "What's the concept of your portfolio?" Well, I don't know. I am just putting together things that I like, and I don't want to attach an artificial story to what we do.Our main focus is to make cool and chic clothes that could be worn anytime, anywhere. We want to strip away unnecessary and showy details, and be minimalistic, urban and natural. A lot of this is influenced by my time in Germany, more as a state of mind rather than just sense of style.Our first collection is exclusive to SSENSE. My favorite piece is the Shell Coat, which has suede pleats on the side that add a fun, textural contrast. I also like the Tank Dress, because it's our first maxi dress that feels really sophisticated.We recently opened our flagship showroom in Seoul called House. Moving FORWARD, we'll continue to apply customer feedback from social media as we feel that it's crucial to understand what they want. We also have quite a bit of male customers who buy from us since we have a lot of oversized clothes, so we would like to tackle menswear one day.
pushBUTTON has been called the Peter Pan of Korean fashion. Despite being one of the most veteran brands from Korea, pushBUTTON stands out for its forever young attitude. Since its founding in 2004, creative director Seunggun Park has applied his love of the 80s to his kitschy collections, which have garnered a steady fanbase of local celebrities and international buyers. After stints as a K-pop singer, model and stylist, Park came full circle with pushBUTTON, which now represents South Korea at London Fashion Week.
1. What does pushBUTTON mean?2. What is the brand's design philosophy?3. What was the inspiration behind your AW20 collection?4. Which is your favorite piece stocked at SSENSE this season?5. Where is pushBUTTON headed?
When I was naming the brand, I was listening to Madonna's "Hollywood," and the lyrics "Push the button, don't push the button" got stuck in my head. The name of the brand was "Push the Button" at first.Our mission is to maintain a sense of joy in all that we do. Joy can mean literally laughing and having fun, but it also equates to the excitement and sense of duty I feel while making a collection. Whenever we finish up a task, I always ask, "Did I enjoy myself?" That has become our brand motto.People view our brand as being mostly eccentric and colorful. We wanted to break away from that image and make a collection with a more mature mood.It is hands-down the Skirt Shorts. We actually designed it as a showpiece for London Fashion Week, but it resonated well with SSENSE and has become a steady exclusive item.The most important thing for us looking FORWARD is not to age. We want to always strive to stay youthful.
Since its launch in 2014, Andersson Bell has emerged as one of the most successful brands to come out of South Korea. Filtering Scandinavian design inspirations through the Korean perspective, its collections always adhere to the study in contrasts, offering garments that are both visually and conceptually unique. With an expanded flagship store in Seoul and an ever expanding team, Andersson Bell is set to take over the world as the next big thing representing South Korea.
1. What is the meaning behind the brand name, Andersson Bell?2. What is your design philosophy?3. What was the inspiration behind your AW20 collection?4. Which is your favorite piece stocked at SSENSE this season?5. Where is Andersson Bell headed?
Andersson is one of the most common last names in Sweden. Most people read it as "and-er-son," but the double S actually makes it "and-er-shong." I felt that the name simply captures the essence of Sweden. "Bell" literally means the ringing bell, and refers to traditional bells that can be seen at Korean temples. I wanted to combine two totally different cultural elements into one.Just as our brand name juxtaposes Sweden and Korea, our DNA is to express contrast in everything we do. When I first visited Sweden in my late twenties, I was so stricken and mesmerized by the country and its culture. Scandinavian design has its own unique identity, even within Europe, which I felt was wholly different from Korean culture. The goal of Andersson Bell is to monitor and express these contrasts in our collections.It started from one of my favorite musicians, Janice Joplin. She performed at California's Monterey Pop Festival in 1967. Our AW20 collection mixes the hippie aesthetics of the era with Korean themes. It could be said that Hippie culture is the total opposite of Asian culture, so it was an interesting contrast to design from.For women, I like the Grey Herringbone Jacket because it has a fun asymmetrical design. We sampled it quite a few times to get to the final product, so I am very attached to it. I also like our men's Contrast Fabric Seoul hoodie, my favorite Andersson Bell hoodie so far.Our hope is for the brand to continue to explore and express interesting contrasts and create something only we can. Our other mission is to always strive for the development of our local partner factories. We must not only grow as a brand, but also foster the growth of our production partners, in order for us to all move FORWARD together.
is a writer based in and . She's the former Managing Editor of . Her work also appeared in and more.